Herb Butler
Research Heraldry Herb Butler
Herbarz Polski translation
Butler herb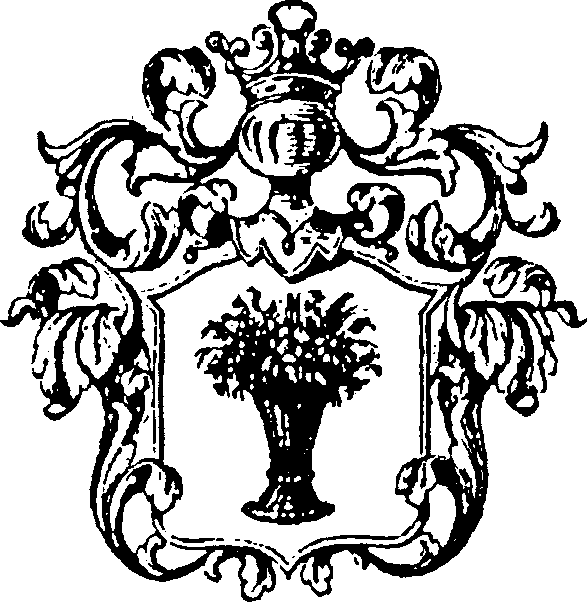 The following is a direct translation from the classical genealogical and heraldic reference "Herbarz Polski" by Kasper Niesiecki, S. J., Lipsk edition, 1839-1846.
Neither Paprocki nor Okolski wrote about these arms. They bear a basket adorned by various flowers. MS. o Familiach Pruskich says that in the arms there is a basket with one handle, filled with clusters of grapes, and in the helm are three red ostrich feathers, separate from each other, and upon the middle one is a yellow bugle. Of the Butlers in England, however, Cambdenus in Britain describes the arms in his printed work thus: on the escutcheon are five palings such as are set up on fortresses, with the tips pointing upward, of a golden color, and above them is a field of blue. On the helm are allegedly no ostrich feathers. The coat of arms was brought first from England to Courland, then to Poland.
At one time the arms flourished in England; I will cite briefly the various authors I have read on this score. First of all, Vadingus dates Edmund Butler, a baron in Ireland, from 1269; he is mistaken about the year, but what he relates about him is certain. Edmund was hearing Mass at his usual service, at the Franciscans' church in Clonmel, when he was informed that the neighboring lords, who were quarreling with him, had attacked his estates with a great crowd of people and were pillaging them; Edmund, not the least disconcerted by this news and valuing more the things of God than of this earth, heard out the Mass to the end as if he'd been told nothing, with deep ardor, and when the Mass was finished he set upon his enemies with a small handful of relatives and servants and drove them away, recovering all their loot. Vadingus tom 2. num. 12.
James Butler was declared first earl of Ormonde (or, as Cambdenus prefers, "Ormandia," also "Ormondia") in Ireland by Edward III, King of England, in 1326, having previously been count of Tipperary, as Vadingus in Annal. Minor. tom. 2 sub. ann. 1336 num. 37 claims in the history of the Kingdom of Ireland. Cambdenus however writes this about Edmund Butler, not James, and says it was Edward II, not Edward III. He says also of this James that Henry VI elevated him to Count of Sarisbury [Salisbury? - Trans.]; that this same James was governor of all Ireland under Henry VI; and Vadingus under the year 1300 num. 16 claims that he was royal cupbearer in England, if there is no mistake: for in the letter of endowment when he donated and turned his palace of Carrick over to the Minorites' monastery, he is called not James but Pincernam. Haroldus num. 5. His son James completed this endowment and brought it to its culmination.
Gwilhelm Butler, provincial of the order of the Minorites in England in 1410, was a learned man known for the books he published. Haroldus in Epit. num. 5. anno 1410. et 1414. num. 2. Thomas Butler was earl of Ormonde, about which Cambdenus writes. They later moved to Courland; Jerzy Butler, bishop of Samara, suffragan of Inflanty, flourished in the year 1630.  Goldonowski in Bractwo. And I had a chance to read the letters of the prince of Courland written in 1579, in which mention is made of the Butlers.
In our realm the first Jakób Butler, Irish nobleman, noted for his courage in various expeditions and loyalty to King Zygmunt III and the commonwealth, was naturalized by the Warsaw sejm in 1627, praevio juramento fidelitatis, on which see constitution fol. 15. He was a man born for war, for he displayed his knighthood in the Prussian war. For this in recognition of his services the commonwealth ordered that two hundred and five thousand be enumerated to him, Constit. fol. 1635. fol. 29. He also served in the imperial forces in the rank of colonel; at the epugnacya of Meissen among the loot was an almost complete bone of the apostle St. Paul supposedly a rib, it was found by the soldiers at some point enclosed among the ruins of the walls of the cathedral deanery - and he got hold of it and, bringing it back to Poland, gave it to King Wladyslaw IV. Wladyslaw, for his part, placed it in the Kraków church of St. Peter as an eternal gift in the year 1633. Hist. Coll. Cracovien. Soc. Jesu.
Gwalter [Walter] Butler, a colonel in the imperial forces in the year 1634, discovered and suppressed Wallenstein's treason. Cluv. Epit. fol. 797. Stefan z Beblu Butler, captain of the commonwealth, signed from Inflanty for the election of Jan Kazimierz; I assume this was the son of the Jakób of whom we talked.
Gwilhelm Gottard Butler, chamberlain of the crown, starosta of Preny [Prynski, could be of Pransk, but Preny seems most likely - Trans.] and Nowe, spent his life in the crown's forces and earned honors. A constitution in 1661 fol. 4. mentions him as an oberszter, a second as a general, at which point his foreign infantry is reckoned at one thousand one hundred seventy-four. What was most laudable in him is that he rejected heresy and embraced the true faith (Scrutin. Veritatis P. Hacki) in which he finished his life in the year 1678. He married Konstancya z Wodynia Wodynska of Kosciesza arms, by whom he had sons Marek and Jan.
Marek Butler in Miedzylesie and Opole, Drohiczyn chamberlain and starosta of Preny, was a royal colonel, of whom there is frequent mention in crown constitutions: thus by the sejm in 1678 he was deputed to set the borders between the royal estates and those of the Bielsk chamberlain (Constit. fol. 7. et 38.), and by the sejm of 1683 he was appointed commissioner to set the boundaries and establish justice between the provinces of Mazovia and Podlasie and the Prussian principality (Constitut. fol. 11) as well as to deal with the Tsars of Moscow for eternal peace (Constit. 1690, fol. 2), and in 1685 as a representative at the sejm he was appointed to review the royal metryka [records of births, deaths, etc. Trans.] (Constit. fol. 8). His son Alexander was starosta of Preny and then of Drohiczyn, and as a representative of Podlasie province, Drohiczyn district, signed the general confederation after the death of Jan III; he married Konstancya Krassowska, daughter of the Mielnik chamberlain, of Jastrzebiec arms, by whom he had a son Antoni, who married Franciszka Szczucka and had three sons, Michal Pronski, Józef Witagolski, and Alexander Mielnicki, starostas, of whom the last married Katarzyna Granowska, daughter of the Jablonowo starosta. One of the Butlers was also abbot of Witów. Konstancya Butler was the wife of Bartlomiej Gieschawa. Jan Butler, Nowe starosta, royal colonel, was appointed by the 1678 sejm commissioner for the recognition of Brandenburg's claims (Constit. fol. 12.). He was later Podlasie castellan, and was married to Zelecka, daughter of the crown master of the hunt. There are Butlers in Great Poland as well, and supposedly they use the same coat of arms as the Butlers in England, of whom I spoke earlier.
Alexander, count Butler, Mielnik starosta, was an ambassador to the convocation of August III and signed from the district of Mielnik for the election of King Stanislaw August. - Ignacy was Wilkomierz cup-bearer. - Heraldyka Wieladka.
Copyright © 1992 William F. Hoffman. Used by permission. This article originally appeared in Polish Genealogical Society Newsletter (Vol. XV, No. 2, Fall 1992), the bulletin of the Polish Genealogical Society.
;