Herb Boncza
Research Heraldry Herb Boncza
Herbarz Polski translation
Boncza herb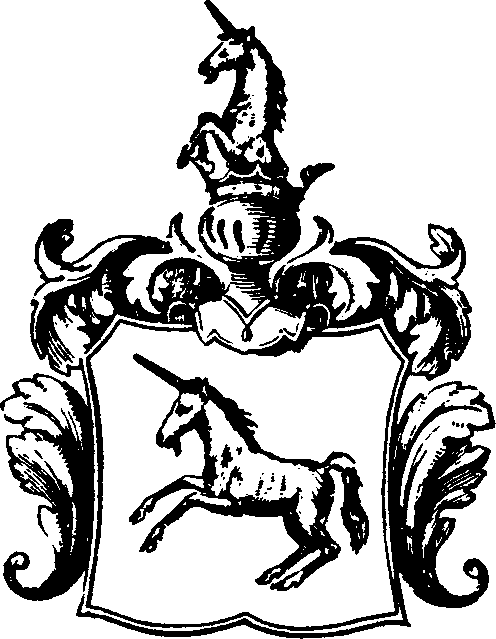 The following is a direct translation from the classical genealogical and heraldic reference "Herbarz Polski" by Kasper Niesiecki, S. J., Lipsk edition, 1839-1846. Translated by William F. Hoffman.
On a blue field is a white Unicorn, like a horse, its forelegs raised as if it has been driven toward the right side of the shield, and on its head is a tapering horn: on the helm and the crown is half of a unicorn like the one on the shield. Okolski gives the field of the Boncza arms as red, and others portray the Unicorn with its head directed to the left of the shield. Paprocki w Gniazdzie fol. 79 o herb. fol. 476. Bielski fol. 77. Okolski tom. 1. fol. 62. Liber Klejn. There are a number of houses in Italy, France, Germany, Britain, and Silesia that feature a Unicorn thus in their coats of arms; for them refer to Petrasancta cap. 54. was Boniface, which in the Polish of the day meant the same as Boncza, and so arms, estates, and he were all named Boncza. MS. Rozrazew. says this family was called Bontempo in Italian, i.e., "good time," and from this the name was turned into Boncza in Polish. Paprocki mentions two sons of Mierzb under the year 1061. Lambert Zula, bishop of Krakow, elevated both Mikolaj and Bogusz, who signed their names as z Wscieklic, to the Krakow canon, along with St. Stanislaw the Martyr. One author adds that both these brothers were born on the same day and died on the same day, As for this Mikolaj z Wscieklic of arms Boncza, Starowolski in Vitis Episcop. Cracovien. mentions, after Długosz, that he was made a canon by Lambert. Bogusz z Ziemblic belongs to the Polkozices. Paprocki later dates Boguslaw z Wscieklic in the year 1100 from a grant of privilege. Jan Schedeland - or, as others write his name, Szotlant - bishop of Chelmno, used the Boncza arms, as I discussed under the bishops of Chelmno.
The question of whether Unicorns exist in this world is a common one among authorities. Plinius, Aelianus, Solinus, Polyhist. cap. 5. S. Izydor, among others, say they do. They describe them in the following fashion: a beast like a horse, not only in form but also in size, but with a neck conforming more to that of a deer; on his forehead a single horn grows, two or three cubits long; he has a tail like a boar's, legs like an elephant's, but he runs faster than an elephant. From this description of Unicorns grew the following aenigma: Cervum fronte refert, Elephantum sed pede, cauda aprum, voce bovem, corpore prodit equum [riddle: his front recalls the deer, but his feet the elephant, his tail the boar, his voice the cow, and his body reveals the horse]. These authors also add that no one can catch a mature one alive, but it is possible to catch its young offspring, and so they use the following ruse to entrap one. They place a finely-dressed girl before him, and having seen her, he forgets his natural wildness, becomes gentle as a lamb, and will play with her until sleep overcomes him; and only then do the lurking hunters fall on him and cut off his horn: from which the symbolist wrote of him: Virgineo mansuescit amore [He is tamed by a maiden's love]. And this horn of his is a proven medicine for all poisons, for when it is put into water contaminated with poisonous reptiles' venom, it makes the water whole at once: because of which property you will find no lord's storehouse where unicorns' horns are not either displayed as an extraordinary gift or richly framed in gold, in accordance with the irrefutable opinion that they are true unicorn's booty.
On the other hand Gregory the Great lib. 31. Moral. c. 13. Tertullian. lib. 2. contra Idol. cap. 10. Origenes, Andreas Marinus, Kircher in mundo subterraneo lib. 8. fol. 66. Szentivani in Curios. Miscell. part. 1. dissert. 10 all consider the animal described above to be a complete fabrication. These authors do not in the least deny that there are found in the world Rinocerotes or Nosorozce (although St. Jerome translates Rem from the Hebrew as "one," so that Jednoroziec or Monocerotes [unicorn] is the same as Nosoroziec [nose-horn]), such as the ones displayed as spectacles in Roman amphitheaters, that is, an animal like the bull in size but a little longer, in shape like a boar, with one horn not over-long and growing not out of its forehead but on its nostrils. They also admit that there are single horned Indian asses on which a horn grows from the forehead, a horn broader at the root and somewhat twisted in a cirle. They also admit concerning wild goats in India that they have a singe horn growing on their head, but more than four spans long. No one has ever seen the Unicorn described above, and so they rightly regard it as a fabrication.
But inasmuch as unicorn horns are displayed and presented as genuine in many places - e.g., one five cubits long in Paris in the church of St. Dionysius; in Argentorato, one about as large as the size of a fair-sized man; in St. Mark's in Venice, and elsewhere - our Rev. Kircher concludes with considerable reason that they are not true unicorn horns but the horns of fish, with which nature armed them against the Whales found in icy seas, with this property, that once such a horn has been put into spring water, when someone drinks of it, it not only disposes of poison but also heals other paroxysms. There are other horns similar in kind that often grow in this world (Kircher and Szentywani tell of them) through the unfathomable workings of nature. I refer the reader to those authors, but for me it suffices to mention them.
No one has written on the origins of these arms, they only agree that they were brought here to our country from Italy immediately after the origins of the Christian faith in Poland. According to some the arms arrived with Klemens, bishop of Kruswica or Kujawy. He came to that capital in 994 (after Lucydus, the place's first bishop), confirmed by Pope Benedykt VII, and his body lies buried in Smogorzewo: thus writes Paprocki, citing Długosz; but erroneously. For Długosz says that in 1005 this Klemens replaced the late Urban at the see of Wroclaw in Silesia, not Kruswica, and died in 1027; and Damalewicz, who traced the thread of all Kruswica or Kujawy bishops from their beginnings to his own times, made no mention of Klemens. In addition, inasmuch as Paprocki says he was buried in Smogorzewo, that means that he was bishop of Smogorzewo, or, as they now call it, of Wroclaw in Silesia (since the first bishops of that place were buried there), not of Wloclawek or Kruswica. According to Długosz, he occupied that see for twelve years, but Glinka in his "Unicorn" asserts that this Klemens was sent by Pope Benedict VII to the Polish prince Mieczyslaw to draw him away from idolatry and polygamy and incline him toward the Christian faith. That same Mieczyslaw used him in the delegation to the Czech prince to request marriage to Dabrowka: he occupied the see for 34 years (he says) and allegedly lived 115 years; what's more, at that age there wasn't a gray hair on him; he fed twelve of the needy at his own table. But Glinka describes all these events of so long ago without citing a single author, and in fact differs from other historians, so his tale seems suspect.
Others allege that in 998 there came from Italy with Prokulf, bishop of Kraków, an estimable man named Mierzb who bore these arms (but Mierzb is hardly an Italian word, and that makes this story suspicious), who was gratefully received by Mieczyslaw, monarch of Poland, and provided with estates; and when his brother Klemens assumed the episcopate of Kruswica, he founded a village near Kozlowski estate in Mazovia, not far from Czerwiensk, and called it Boncza: who to this day, as Paprocki says, are heirs of those estates. There is a Boncza village in Chelm region, but it seems to me that it was later entitled from the Sienickis to these arms and to the owners of these estates. As for the name Boncza, Okolski and Rev. Rutka conjecture that by rights the name of this "Mierzb"
Bearers of these Arms
| | |
| --- | --- |
| Bartoszewski | Moraniecki |
| Bialobrzeski | Niedabylski |
| Boniecki | Osmolski |
| Braciejowski | Pioro |
| Brzeski | Pokrzywnicki |
| Brzostowski | Postruski |
| Bukowski | Radawiecki |
| Bystrzycki | Romanowski |
| Charleski | Rutkowski |
| Chmielecki | Rybczewski |
| Chometowski | Sienicki |
| Chrosciejowski | Skoczewski |
| Fredro | Skorowski |
| Gasparski | Socha |
| Gozimirski | Solikowski |
| Gulinski | Srzebiecki |
| Izycki | Strzeszkowski |
| Kargowski | Szerzedski |
| Klonowski | Tomaszowski |
| Krakowiecki | Turoboski |
| Krzewski | Uzdowski |
| Kulwinski | Wasniewski |
| Kunicki | Wilga |
| Lissowski | Zolkiewski |
Copyright © 1988 William F. Hoffman. Used by permission. This article originally appeared in Polish Genealogical Society Newsletter  (Vol. XI, No. 2, Fall 1988), the bulletin of the Polish Genealogical Society of America.
;